Facilitation

Storyboarding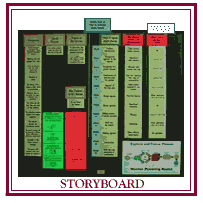 Storyboarding is a unique, creative planning process, developed by The McNellis Company, that helps you to visually display your thoughts and ideas in an organized fashion. The process is a blend of philosophy, methodology and leadership concepts. First developed for Disney, the process is designed as a method of free, open and creative planning while at the same time maintaining the necessary structure and organization to make the resulting plans useful and effective.

Trained in the process, Hollis has tailored it for use with her professional services clients, which enables them to:
Quickly and effectively identify and resolve key issues and roadblocks to success;
Use planning and decision making time efficiently;
Set priorities and focus on primary goals and objectives;
Gain consensus and allow for free and creative thinking while providing objective outside leadership.


Our clients always comment on how productive the outcomes and actions are from storyboarding.